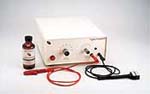 Precautions before Use: -
First type the required matter (Identification Mark, Code No. Batch No., Date etc.) on a standard Stencil paper on your Typewriter / DOT Matrix Printer. Otherwise use the permanent Stencils supplied by YUGMA.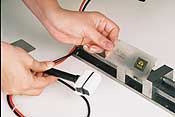 ---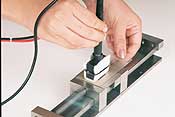 Keep this stencil on the job to be marked. 
---
Now wet the Marking Head with the Electrolyte supplied by YUGMA. Press the Marking Head on the stencil resting on the metal below.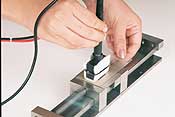 ---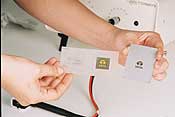 After few seconds, remove the Marking Head and Stencil. You will find the surface of the job or work piece is marked clearly and permanently etched to a depth of a few microns. By varying seconds with the Timer Knob and voltage with the Voltage Knob, one can adjust the Marking depth
---
Choice of Marking:-
YUGMA Mark-2 System will mark metallic parts of any shape and size either a bright (Deep Etch) marking or dark (Black) marking. To choose either option, all you need to adjust the Knob provided on the machine. Makes clear, legible & controlled marking on all metallic surfaces.
EXAMPLES OF YUGMA MARK-2
YUGMA MARK-2 MAKES FOUR KINDS OF MARKS
Yugma Mark -2 makes Black frosty mark on almost Every finish metal
Yugma Mark -2 makes clear deep etch to 0.003" on metal
Yugma Mark -2 makes deep etch black mark on metals
Yugma Mark -2 makes mark on mirror
Care in use
When in use the following principles should be observed to prolong the life and marking quality of the machine. The Etching fixture should be wiped clean of any surface contamination whether dirt, dust or grease etc. as above. The electrolyte should be drained after use otherwise it will cause damage to the motor.

General Care
When not in use the Etching Fixture should always be wiped clean by any antirust solution like: silicon spray, acetone etc. to avoid the rusting problems. Also it should be covered and protected in all circumstances from dust & moisture